Democracy, Forests and Socio-diversity in Bolivia / Democracia, Bosques y Socio-diversidad en Bolivia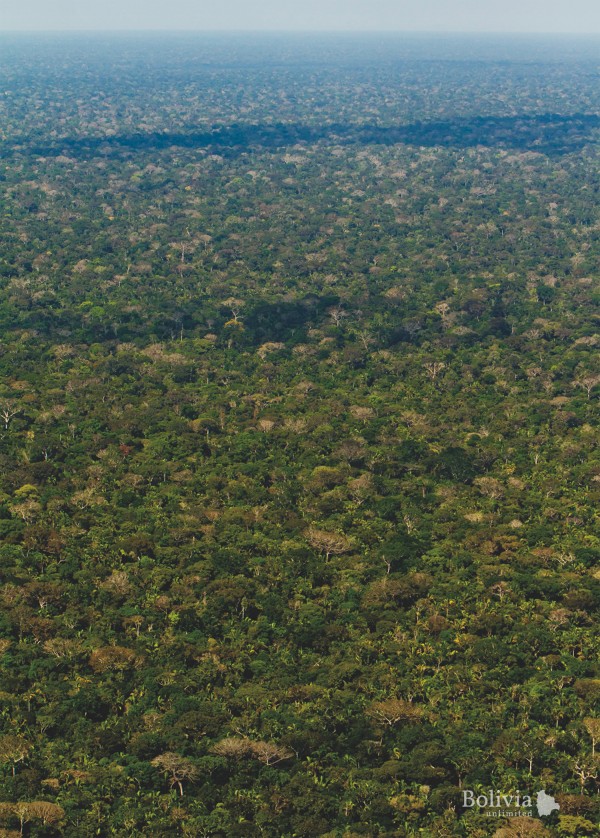 31 Oct, 2020 | José Antonio Martinez Montaño
Photo: Tony Suárez
ENGLISH VERSIÓN
Formal and representative democracy is not only a way of electing authorities, it is also a mechanism for imposing a political system on the population, a development model for the country while predominantly maintaining the interests of the ruling classes to the detriment of the collective interests of society and nature. In this regard, socio-cultural aspects, which are often perceived as social practices, must be taken into account and are the greatest expression of the backward capitalist state, as Guillermo Lora would say.
In Bolivia, there are three interconnected factors that have caused deforestation: 1) 18th century agrarian thought, 2) the delayed recognition of the rights of indigenous peoples of the lowlands and 3) representative formal democracy. These three factors have an impact on the wrong social practices, the mass loss of forest and the loss of socio-diversity. Extractivist practices embody all of these problems as they are destroying forests and violating indigenous rights, within the framework of democracy. Let's explain why:
Bolivia has 109,900,000 hectares (1,099,000 Km2) of territorial surface, an immense territory for a small population that borders twelve million inhabitants. The total cultivated area according to the last agricultural census (2013) is 2,800,000 hectares, (Plurinational State of Bolivia, 2015), cultivated land in Bolivia only reaches 3% of this total area. With this data in mind, it is easy to conclude that we have a lot of land that is not cultivated. Consequently, it seems that Democratic candidates and governors have sought to expand our nation's agricultural frontier through state policies. This is why they speak so highly about strengthening and supporting agribusiness, the "model of Cruceño development", and perhaps more daringly, some even point out that they should export this model of Santa Cruz and apply it to the whole country.
Álvaro García Linera also believed in the expansion of agriculture and in the last years of the MAS government, he announced his cultivation plans to the Bolivian authorities of the Plurinational State, the self-styled indigenous government that fought for a "process of social change", a "cultural democratic revolution", "21st century socialism" and claimed they were the "defenders of Mother Earth". He estimated that by 2025, Bolivia would have 13, 000,000 hectares of cultivated land. The former President and Vice President's statements show that they were prepared to give up one million hectares of forest for agriculture per year, under the guise of food and resource security for the nation. These governmental decisions stem from 'Thirteen Pillars of the Dignified and Sovereign Bolivia' taken from the 'Patriotic Agenda of 2025', and the "ego" of the "neocratic and toparchic" (Martínez & Villegas, 2018) leaders in order for them to be able to pay back Chinese and Russian loans for the export of soybeans and meat.
In the sixth pillar of the Patriotic Agenda, "Productive sovereignty with diversification and integral development without the dictatorship of the capitalist market", it is stated that:
"Forests are no longer considered idle land for agriculture, but are comprehensive scenarios for the production and transformation of food, biodiversity resources and food."
"In Bolivia, systems of production will be efficient with high agricultural yields, we will accommodate life systems with a biocultural vision and maintain and preserve Mother Earth." (Plurinational State of Bolivia, 2013)
For Evo and Álvaro, as well as for agro-industrialists, ranchers, interculturalists, coca leaf growers, oil workers, lowland miners, mega project architects, forests are a hindrance to development and they dream that extractive activities, among them agricultural, livestock, mining and fossil hydrocarbons, are efficient. In these cases, there is a clash between thought and reality. The decision to occupy 13 million hectares of forest, resulted in the destruction and forest fires that spread 6.4 million hectares in 2019 and at the time of writing this article, more than 2 million hectares of forest are burning.
Those who advocate for this level of destruction turn a blind eye to the natural and social realities that exist in Bolivia. Historically and culturally, the image of Bolivia as an exclusively highland, Andean, mining country has been projected. This image, however, excludes the bio and socio-diverse splendour that we can see in our country. We cannot fathom how biodiverse Bolivia is, as well as the 36 indigenous groups, which make up the country's socio-diversity. Despite the fact that natural resources and indigenous peoples are declared "subjects of law" in the Political Constitution of the State, their own territories are continuously invaded, destroyed and subjugated by cattle ranchers, soy producers and miners that are sponsored by the state. These natural and social realities are not considered, let alone protected by the constitution.
In the past, the national territory was made up of forests by 63%. Currently, the wooded areas are estimated to occupy 45% of Bolivian territory, taking into account the loss of forests due to the 2019 and 2020 fires. Despite this large area of forests, Bolivia is not known as a tropical or forest country. On the other hand, the lands that are suitable for agricultural activity barely reach 5% of the national territory, and the mountains and the highlands constitute 32%. Bolivia's economy heavily depends on its natural landscapes and for this reason it has always been known as an agricultural and mining Andean country.
In summary, the loss of forested land is not automatically converted into an agricultural space. Increased deforestation and forest fires will not affect the country's agricultural capacities. On the contrary, there will be more droughts, higher temperatures, and increases in hurricane-like winds in the lowlands. During certain seasons, there will be torrential rains which will flood areas that do not need it, floods in lowlands, and floods where soy is grown. In the mesothermic valleys, frost and hail levels will increase. In the highlands, there will be a noticeable albeit gradual loss in the Andean glaciers. We have misunderstood and underestimated nature and we are losing bio and socio-diversity by the minute. These negative social and environmental consequences should worry us to our core, especially those of us who do not feel prepared to tackle them.
--------
VERSIÓN EN ESPAÑOL
La democracia formal y representativa, no solo es una forma de elegir autoridades, es también el mecanismo de imponer al conjunto de la sociedad un sistema político, un modelo de desarrollo para el país y el predominio de los intereses de las clases dominantes, en detrimento de los intereses colectivos de la sociedad y la naturaleza; a este respecto, se debe añadir aspectos socioculturales, que se "naturalizan" como prácticas sociales, y que son la mayor expresión del estado capitalista atrasado, como diría Guillermo Lora.
En Bolivia existen tres temas combinados que generan la mayor destrucción de bosques: i) el pensamiento agrarista siglo XVIII, ii) el tardío reconocimiento social de los derechos de los pueblos indígenas de tierras bajas y iii) la democracia formal representativa. Estas tres tramas tienen impacto en las prácticas sociales equivocadas, la pérdida de masa boscosa y la pérdida de sociodiversidad. Esta combinación puede resumirse en las prácticas extractivistas que están destruyendo bosques y vulnerando los derechos indígenas, en el marco de la democracia. Expliquemos porque:
El pensamiento lineal vinculado al agrarismo del siglo XVIII, razona del modo siguiente: Bolivia cuenta con 109.900.000 has. (1.099.000 Km2) de superficie territorial, un territorio inmenso para una pequeña población que bordea los doce millones de habitantes. La superficie cultivada total según el último censo agropecuario (2013) es de 2.800.000 has., (Estado Plurinacional de Bolivia, 2015), la superficie cultivada en Bolivia sólo alcanza al 3% de la superficie total. Con estos datos es fácil concluir que tenemos mucha tierra y poca superficie cultivada y consiguientemente se les antoja a los candidatos y gobernantes demócratas, como política de estado, ampliar la frontera agrícola, por eso nos hablan de fortalecer y respaldar la agroindustria, el "modelo de desarrollo cruceño", algunos más atrevidos, señalan que exportan este modelo a todo el país.
Álvaro García Linera, tuvo el mismo razonamiento e impuso en los últimos años del gobierno del MAS ese pensamiento a las autoridades bolivianas del Estado Plurinacional y autodenominados, Gobierno: "indígena", "del proceso de cambio social", de la "revolución democrática cultural", "socialismo siglo XXI", "defensores de la madre tierra", etc., y deciden ampliar la frontera agrícola proyectando alcanzar al 2025, trece millones de hectáreas cultivadas (13.000.000 de has.). Las declaraciones públicas de los ex Presidente y Vicepresidente de Bolivia, dan cuenta que habilitarían para la agricultura un millón de hectáreas de bosque cada año, bajo el argumento de seguridad alimentaria. Estas decisiones gubernamentales tienen su origen en los 13 pilares de Bolivia "digna y soberana" de la "Agenda Patriótica, 2025", y en el "ego" de los gobernantes "neócratas y topárquicos" (Martínez & Villegas, 2018), para satisfacer los empréstitos con el gobierno de China y Rusia, para la exportación de soya y carne.
En el pilar 6, "Soberanía productiva con diversificación y desarrollo integral sin la dictadura del mercado capitalista", de la Agenda Patriótica, específicamente se establece:
"Los bosques ya no son considerados como tierras ociosas para la agricultura (J.M.), sino que son escenarios integrales de producción y transformación de alimentos, recursos de biodiversidad y alimentos"
"En Bolivia los sistemas productivos serán eficientes con altos rendimientos agropecuarios incorporando el enfoque de los sistemas de vida con visión biocultural y el sostenimiento de la capacidad de regeneración de la Madre Tierra" (Estado Plurinacional de Bolivia, 2013)
Para Evo y Álvaro, al igual que para los agroindustriales, los ganaderos, los interculturales, cocaleros, los petroleros, los mineros de tierras bajas, los constructores de mega proyectos, los bosques son un estorbo para el desarrollo y sueñan que las actividades extractivas, entre ellas las agrícolas, las ganaderas, las mineras y de hidrocarbonos fósiles sean eficientes. En estos casos, existe un choque entre pensamiento y realidad. La peregrina idea de habilitar 13 millones de hectáreas de bosque, se tradujo en la destrucción e incendios de 6.4 millones de hectáreas el 2019 y al momento de escribir este artículo, están ardiendo más 2 millones de hectáreas de bosque.
La raíz de estas incongruencias es el desconocimiento de la realidad natural y social de Bolivia. Histórica y culturalmente se ha impuesto la idea de Bolivia como un país altiplánico, andino, minero, negando en los hechos la realidad biodiversa y sociodiversa de Bolivia. Se desconocen los distintos tipos de bosques existente en el país y su biodiversidad, lo mismo que a los 36 pueblos indígenas existentes en el país, que conforman la sociodiversidad; no obstante que los recursos naturales y los pueblos indígenas en la Constitución Política del Estado, son declarados "sujetos de derecho" con territorios propios pero invadidos, destruidos y avasallados por interculturales, ganaderos, soyeros y mineros al amparo del Estado. Estas realidades naturales y sociales no son imaginadas por los gobernantes y candidatos, menos protegidos como establece la Constitución.
En el pasado, el territorio nacional contaba con bosques en el orden del 63%, en la actualidad, la superficie boscosa está en el orden del 45%, incluida la pérdida de bosques por los incendios del 2019 y el 2020. A pesar de esta gran superficie de bosques, Bolivia no es conocido como un país tropical o forestal; en cambio, las tierras con capacidad agrícola apenas alcanzan el 5% del territorio nacional, las montañas y altiplano un 32%, en estos últimos espacios se basó la economía del país y por ello se conoció Bolivia hacia dentro y fuera, como país andino, agrícola y minero.
En resumen, la pérdida de bosques, no se convierte "per-se" en tierras con capacidad agrícola, es decir, a mayor deforestación e incendios forestales no habrá mayores superficies de tierras agrícolas, todo lo contrario, habrá mayor sequía, altas temperaturas, incremento de vientos huracanados en tierras bajas y en otros periodos, lluvias torrenciales con alta escorrentía y focalizados en áreas donde no se precisan las lluvias e inundaciones en tierras bajas, en los lugares donde se desprotege las cuencas bajas de su cobertura vegetal y coincidentemente son la zonas donde se cultivan soya; en los valles mesotérmicos, se incrementaran las heladas, granizos, y en tierras altas, sensiblemente, la gradual pérdida de glaciares andinos. En este sentido, lo que preocupa son los impactos negativos sociales y ambientales, para los que no estamos preparados, resultantes de estas incomprensiones y que irremediablemente se concreta en la pérdida de biodiversidad y sociodiversidad.
Bibliografía
Comunidad Ciudadana. Programa de Gobierno #Soluciones para el presente y futuro de Bolivia. La Paz: CC, 2020.
Estado Plurinacional de Bolivia. Agenda Patriótica 2025. La Paz: Ministerio de Autonomías, 2013.
—. Censo Agropecuario 2013, Bolivia. La Paz: INE, 2015.
Gallardo, J., Hontoia, C., Amorox, J. Clasificación de la capacidad agrológica de las tieras. Madrid: Escuela Técnica Superior de Ingenieros Agrónomos, Unv. Politécnica de Madrid, 2002.
INE, ESTADO PLURINACIONAL DE BOLIVIA. CENSO AGROPECUARIO 2013 Bolivia. La Paz: INE, 2015.
Martínez Montaño, José Antonio. Atlas de Territorios Indígenas de Bolivia: Estado de Titulación de las TCOs en Bolivia. La Paz: Plural, 2000.
Martínez, José A, y Zulma E. Villegas. La visión agrarista de los actores de la deforestación en Bolivia. Barcelona: editorial académica española, 2018.
Noticias Fides. Enlaces Net Bolivia. 22 de Mayo de 2018. http://www.enlacesbolivia.net/9418-Evo-Morales-dice-que-si-pierde-las-elecciones-2019-aplicara-su-programa-de-Gobierno-2025.